By Brian Flood ,  David Rutz| Fox News
The left-leaning Collins covers "disinformation, extremism and the internet," according to NBC News' website. He describes his job as covering the "dystopia beat" on his Twitter bio, and Collins has emerged as a chief antagonist of Musk's Twitter leadership and has repeatedly scolded him during TV appearances and on his own social media.
Recent NBC News reports headlined, "There's an exodus of Twitter executives, including the head of trust and safety, as Musk's chaotic reign continues," "Musk fires Twitter engineers after critical posts on Twitter and Slack" and "Should I delete my DMs? What Twitter has on you, and what you can and can't do about it," Collins either wrote or contributed to.
But while NBC News bills itself as a nonpartisan source of trusted information, Collins hasn't bothered to hide his disdain for Musk, whose poking of the media, digs at political correctness and dalliances with right-wing figures online have made him into a villain on the left. On Tuesday night, Collins mocked the Tesla mogul for declaring he recently found out Twitter hired a former FBI attorney to serve as in-house counsel before he purchased the tech giant.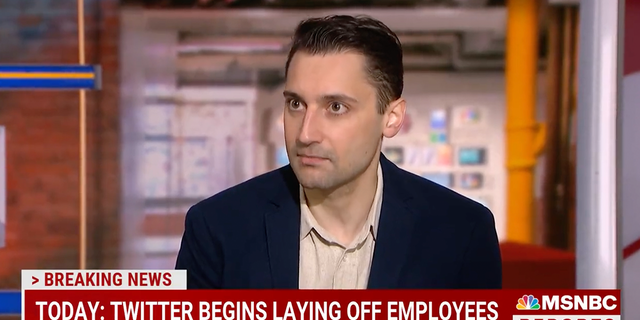 NBC News Senior Reporter Ben Collins discusses Twitter layoffs under Elon Musk on November 4, 2022. (MSNBC)
LEFT-WING NBC REPORTER BEN COLLINS CRUSHED FOR 'MELTDOWN' ABOUT 'TWITTER FILES': 'I HOPE YOU FIND HEALING'
"The scandal here is that Elon Musk discovered who his company's deputy general counsel was six weeks after he purchased it," Collins tweeted.