FIRST ON FOX: A coalition of 20 states and a top conservative legal group are suing the Biden administration over its recently expanded humanitarian parole program that allows tens of thousands of migrants from designated countries a month into the U.S., arguing that the program is unlawful.
The lawsuit, filed by Texas and America First Legal in the Southern District of Texas, is joined by 19 additional states who are seeking to block the Biden administration's parole program, which allow up to 30,000 migrants from Haiti, Nicaragua, Cuba and Venezuela into the U.S. each month.
The Biden administration announced the program for Venezuelans in October, which allowed a limited number to fly directly into the U.S. as long as they had not entered illegally, had a sponsor in the U.S. already and passed certain checks.
Earlier this month, President Joe Biden announced that the program would be expanding to include Haitians, Nicaraguans and Cubans and that the program would allow up to 30,000 a month into the U.S. It allows for migrants to receive work permits and a two-year authorization to live in the U.S. and was announced alongside an expansion of Title 42 expulsions to include those nationalities.
OVER QUARTER OF A MILLION MIGRANT ENCOUNTERS IN DECEMBER ALONE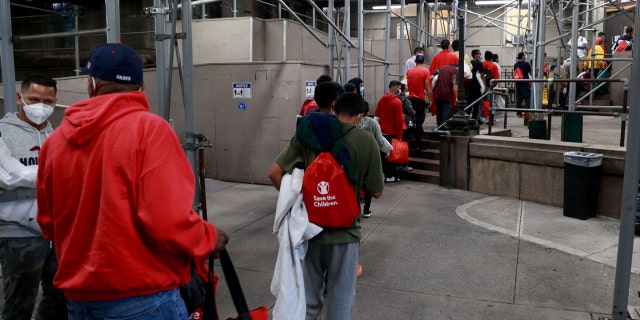 Around 60 recently arrived Venezuelan migrants are seen entering a shelter at Bellevue Hospital, Oct. 12, 2022, in Manhattan, New York. (Luiz C. Ribeiro / New York Daily News / Tribune News Service via Getty Images)
"We anticipate this action is going to substantially reduce the number of people attempting to cross our southwest border without going through a legal process," he said.
"We can provide humanitarian relief consistent with our values, cut out vicious smuggling organizations, and enforce our laws," Homeland Security Secretary Alejandro Mayorkas said in a statement. "Individuals without a legal basis to remain in the United States will be subject to prompt expulsion or removal. Individuals who are provided a safe, orderly, and lawful path to the United States are less likely to risk their lives traversing thousands of miles in the hands of ruthless smugglers, only to arrive at our southern border and face the legal consequences of unlawful entry."
In the lawsuit led by Texas and America First Legal, the plaintiffs argue that the program is illegal given the "exceptionally limited" parole power available to the federal government. They note that up to 360,000 migrants could be allowed into the U.S. a year.
The lawsuit focuses on the limits placed on parole by Congress that says the authority is to be used on a "case-by-case basis for urgent humanitarian reasons or significant public benefit" — a standard that the lawsuit says the program fails to meet.
"The parole program established by the Department fails each of the law's three limiting factors. It is not case-by-case, is not for urgent humanitarian reasons, and advances no significant public benefit. Instead, it amounts to the creation of a new visa program that allows hundreds of thousands of aliens to enter the United States who otherwise have no basis for doing so. This flouts, rather than follows, the clear limits imposed by Congress," the lawsuit reads.Video
The Biden administration has said the program is one of a number of ways it is expanding lawful migration pathways as a way to combat the ongoing migrant surge at the border that has seen historic numbers hit the border each month — and is calling on Congress to pass a broader immigration reform bill.
Separately, it has used humanitarian parole to allow Afghans and Ukrainians into the U.S. in the last year. But conservative critics have said the latest program is illegal and facilitates rather than stops the migrant surge.
The lawsuit says the program is also unlawful as it did not engage in the notice-and-comment rulemaking required by the Administrative Procedure Act — by which a number of immigration policies have been at least temporarily struck down in recent years. It also argues that the states "face substantial irreparable harms from the Department's abuse of its parole authority, which allow potentially hundreds of thousands of additional aliens to enter each of their already overwhelmed territories." They argue that states face additional costs for health care, education and other social services.