Mixon's agent believes the charges will be dropped Friday morning
A warrant has been issued for the arrest of Cincinnati Bengals star running back Joe Mixon.
However, Mixon's agent, Peter Schaffer, told NFL Network he expects charges of aggravated menacing – a misdemeanor in the state of Ohio – will be dropped Friday morning.
"It was a rush to judgment," Schaffer said. "They're dropping the charges first thing in the morning. I really feel that police have an obligation before they file charges – because of the damage that can be done to the person's reputation – to do their work. They should be held to a higher standard. Because I don't play with people's lives."
CLICK HERE FOR MORE SPORTS COVERAGE ON FOXNEWS.COM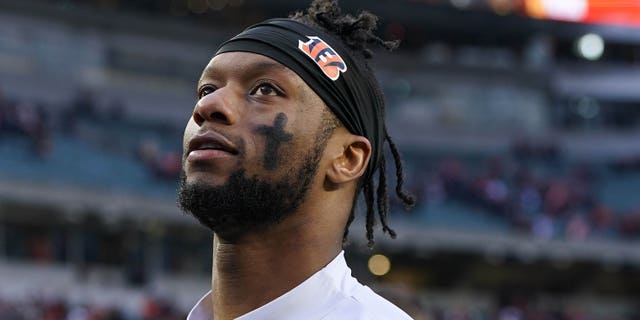 Joe Mixon #28 of the Cincinnati Bengals walks off the field after defeating the Baltimore Ravens 27-16 at Paycor Stadium.(Dylan Buell/Getty Images)
An affidavit, obtained by Cincinnati's WKRC-TV, alleged that Mixon pointed a gun at a woman and "did knowingly point a firearm at the victim stating, 'You should be popped in the face. I should shoot you now. The police can't get me.'"
"The club is aware misdemeanor charges have been raised against Joe Mixon," a Bengals spokesperson told Fox News Digital. "The club is investigating the situation and will not comment further at this time."
JOE MIXON REACHES SETTLEMENT WITH OKLAHOMA WOMAN HE PUNCHED IN 2014
Mixon, 26, has a history of off-the-field incidents that date back to his time as a student-athlete at Oklahoma. He punched a female student in the face in July 2014, and video later went viral of the incident.
Mixon's punch left Amelia Molitor with a broken jaw and cheekbone. They later settled out of court.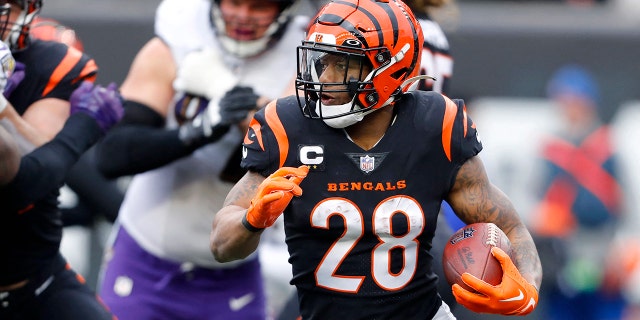 Jan 8, 2023; Cincinnati, Ohio, USA; Cincinnati Bengals running back Joe Mixon (28) looks for room during the third quarter against the Baltimore Ravens at Paycor Stadium. (Joseph Maiorana-USA TODAY Sports)
"I'm thankful Mia and I were able to talk privately," Mixon said in April 2017. "I was able to apologize to her one-to-one. The way I reacted that night, that's not me. That's not the way I was raised. I think she understands that. Talking together helps move us past what happened. I know I have to keep working to be a better person, and this is another step in that direction."
Mixon was suspended for the entire 2014 college season. He also had an incident with a parking attendant whom he intimidated in 2016, leading to another suspension, though not for the entire season.
CHAD 'OCHOCINCO' JOHNSON SAYS HE SAVED 83% OF NFL EARNINGS BY WEARING FAKE JEWELRY, FLYING COMMERCIAL
These instances heading into the 2017 NFL Draft led to NFL teams questioning Mixon, but the Bengals chose him in the second round and have not had any issues up to this point.
He earned his first Pro Bowl nod in 2021 after rushing for 1,205 yards with 13 touchdowns as well as 48 receptions for 314 yards and three scores through the air.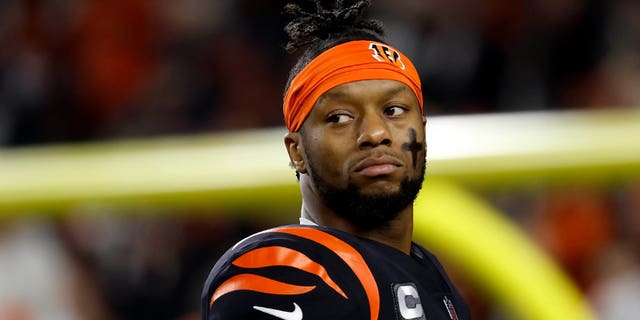 Joe Mixon #28 of the Cincinnati Bengals warms up prior to the start of the game against the Buffalo Bills at Paycor Stadium on January 2, 2023 in Cincinnati, Ohio. (Kirk Irwin/Getty Images)
CLICK HERE TO GET THE FOX NEWS APP
This past season, Mixon rushed for 814 yards in 14 games with seven touchdowns for the Bengals, who made it to the AFC Championship Game.