President Joe Biden on Friday denied that members of his family received $1 million in payments from his son Hunter's business associates, despite bank records and confirmation from his legal team.
President Biden denied that his family received more than $1 million in payments from accounts related to Hunter Biden's business associate Rob Walker and their Chinese business ventures in 2017, even though financial records indicate otherwise.
On Thursday, GOP lawmakers on the House Oversight Committee revealed that they had obtained bank documents showing that Hunter Biden, the president's brother Jim, and Hallie Biden, the widow of his son Beau, received payments from Hunter's business associate Rob Walker and their joint venture with Chinese energy firm CEFC. A spokesperson for Hunter Biden's legal team confirmed the payments Thursday but emphasized that the recipients' accounts "belonged to Hunter, his uncle and Hallie – nobody else."
However, Biden denied that the payments were made when confronted by a reporter on the White House lawn Friday.
"That's not true," the president said, when asked about the GOP lawmakers' findings.
BIDEN FAMILY RECEIVED MORE THAN $1M FROM HUNTER ASSOCIATE AFTER 2017 CHINA WIRE: HOUSE OVERSIGHT
Financial records that Oversight Committee Chairman James Comer, R-Ky., subpoenaed from Bank of America say otherwise.
The records revealed that on March 1, 2017, less than two months after then-Vice President Joe Biden left office, State Energy HK Limited, a separate Chinese company, wired $3 million to Robinson Walker, LLC.
"The next day, Robinson Walker, LLC wired $1,065,000 to European Energy and Infrastructure Group in Abu Dhabi, a company associated with James Gilliar," a memo from the committee states.
Gilliar was a business partner of Hunter Biden involved in his foreign business ventures.
HUNTER BIDEN: SUBPOENAED BANK OF AMERICA RECORDS OPENED 'NEW AVENUES' OF INVESTIGATION, HOUSE OVERSIGHT SAYS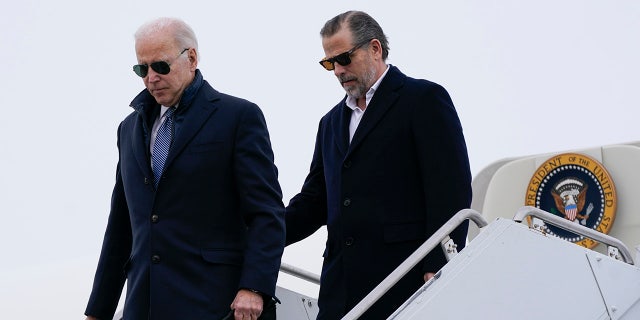 President Biden and his son, Hunter Biden, step off Air Force One, Saturday, Feb. 4, 2023, at Hancock Field Air National Guard Base in Syracuse, N.Y. (AP Photo/Patrick Semansky)
"After the Robinson Walker, LLC account received $3 million from State Energy HK Limited, Biden family members and their companies began receiving incremental payments over a period of approximately three months," the memo states. "The recipients of the money included Hallie Biden, companies associated with Hunter Biden and James Biden, and an unknown bank account identified as 'Biden.'"
Republican lawmakers say they are probing whether the Biden family leveraged Joe Biden's former position as vice president to make lucrative deals with foreign nationals.

The White House in a statement did not deny the findings, but blasted the committee's investigation into the Biden family.
"After a disgusting attack lamenting that the President's deceased son Beau was never prosecuted while he was alive, Congressman Comer has now decided to go after Beau's widow," said White House spokesman Ian Sams said, referring to comments Comer made earlier this month about the late Beau Biden's campaign contributions.
HUNTER BIDEN: TREASURY TO GIVE HOUSE OVERSIGHT ACCESS TO SUSPICIOUS ACTIVITY REPORTS, COMER SAYS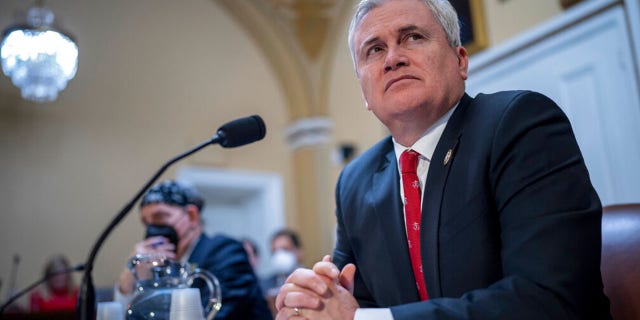 House Oversight and Accountability Committee Chairman James Comer, R-Ky., says Biden family members received money linked to Hunter Biden's business ventures in China. (AP Photo/J. Scott Applewhite)
"Instead of bizarrely attacking the President's family, perhaps House Republicans should focus on working with the President to deliver results for American families on important priorities like lowering costs and strengthening health care," Sams said.
Hunter Biden's legal team accused Republicans of pushing a "baseless right-wing conspiracy theory," even as they confirmed that the payments had happened.
CLICK HERE TO GET THE FOX NEWS APP
"Hunter Biden, a private citizen with every right to pursue his own business endeavors, joined several business partners in seeking a joint venture with a privately-owned, legitimate energy company in China," the spokesperson said. "As part of that joint venture, Hunter received his portion of good faith seed funds which he shared with his uncle, James Biden, and Hallie Biden, with whom he was involved with at the time, and sharing expenses."