Constitutional law expert Jonathan Turley says Manhattan district attorney's office would not be the first to yield to public pressure and charge someone.
Prosecutors in the Manhattan district attorney's office won't have much of a legal leg to stand on if they indict former President Donald Trump on violating campaign finance law, according to a legal expert and former member of the Federal Election Commission (FEC).
"If the state charges are based on a supposed violation of federal campaign finance law, then the Manhattan DA is way off base," Hans von Spakovsky told Fox News Digital.
Von Spakovsky's comments came shortly after Trump said Saturday that he expects to be arrested Tuesday amid reports saying the Manhattan district attorney's office is preparing to issue an indictment for alleged hush money payments that Trump made as a presidential candidate in 2016.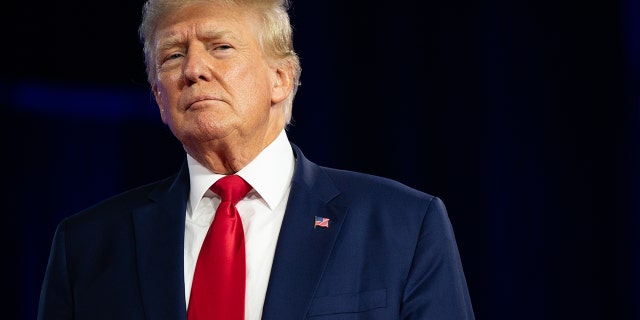 Former U.S. President Donald Trump speaks at the Conservative Political Action Conference (CPAC) at the Hilton Anatole on August 6, 2022, in Dallas, Texas. (Brandon Bell/Getty Images)
TRUMP SAYS 'ILLEGAL LEAKS' INDICATE HE'LL BE ARRESTED TUESDAY
"NOW ILLEGAL LEAKS FROM A CORRUPT & HIGHLY POLITICAL MANHATTAN DISTRICT ATTORNEYS OFFICE, WHICH HAS ALLOWED NEW RECORDS TO BE SET IN VIOLENT CRIME & WHOSE LEADER IS FUNDED BY GEORGE SOROS, INDICATE THAT, WITH NO CRIME BEING ABLE TO BE PROVEN, & BASED ON AN OLD & FULLY DEBUNKED (BY NUMEROUS OTHER PROSECUTORS!) FAIRYTALE, THE FAR & AWAY LEADING REPUBLICAN CANDIDATE & FORMER PRESIDENT OF THE UNITED STATES OF AMERICA, WILL BE ARRESTED ON TUESDAY OF NEXT WEEK. PROTEST, TAKE OUR NATION BACK!, [sic]" Trump posed to his Truth Social account.
Manhattan District Attorney Alvin Bragg's office will reportedly meet with law enforcement officials to discuss logistics for some time next week regarding a potential indictment, which stems from a years-long investigation into Trump's alleged hush money scandal involving porn star Stormy Daniels.
In the final weeks of the 2016 presidential campaign, Trump's then-lawyer Michael Cohen sent $130,000 to Daniels to prevent her from disclosing her alleged 2006 affair with Trump, who has denied the affair. Trump subsequently reimbursed Cohen.
TRUMP RECEIVED 'NO NOTIFICATION' OTHER THAN 'ILLEGAL LEAKS' ABOUT POSSIBLE ARREST NEXT WEEK, SPOKESPERSON SAYS
It's been widely speculated that Trump could be charged with overseeing the false recording of the reimbursements in his company's internal records as "legal expenses."
Prosecutors are also expected to charge Trump with violating campaign finance laws by arranging the payments to buy Daniels' silence weeks before the 2016 election. However, experts have questioned the legal reasoning behind such a charge.
"A settlement payment of a nuisance claim is not a federal campaign expense," said von Spakovsky, a senior fellow at the Heritage Foundation. "The state DA has no authority to prosecute a federal campaign finance violation in any event."
Such cases, he argues, are within the province of the FEC, where he served as a commissioner, or the U.S. Justice Department, explaining that both agencies have known about the facts for years but have chosen not to prosecute Trump.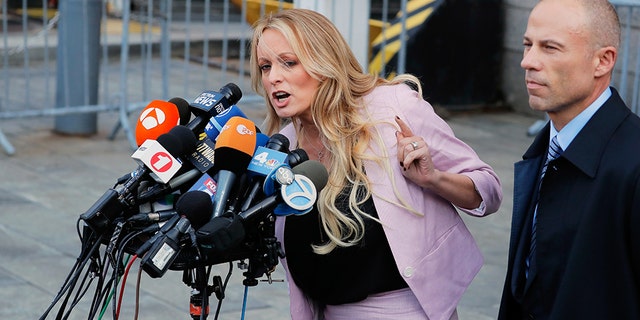 Adult film actress Stephanie Clifford, also known as Stormy Daniels, speaks to media along with lawyer Michael Avenatti (R) outside federal court in the Manhattan borough of New York City, April 16, 2018. (REUTERS/Lucas Jackson)
MANHATTAN DA'S OFFICE 'ASKED FOR A MEETING' WITH LAW ENFORCEMENT AHEAD OF POSSIBLE TRUMP INDICTMENT
"So, the federal agencies with jurisdiction did not consider it a violation," said von Spakovsky, who's been following this case for years.
In 2018, von Spakovsky wrote that the payment to Daniels seemed to be a "nuisance settlement," which celebrities often make, especially when faced with the threat of a false or salacious claim.
"Critics of the president claim this not only was a campaign expense that should have been reported but a potentially illegal loan by Cohen. But the settlement was ultimately paid out of Trump's personal funds and had nothing to do with the campaign since their alleged one-night stand occurred 10 years before the campaign," wrote von Spakovsky. "No reasonable member of a jury would consider this to be a campaign-related expense that needed to be reported, or to which any other campaign finance rules in the Federal Election Campaign Act apply."
Von Spakovsky noted in his 2018 analysis that the Department of Justice already tried out this theory with former Democratic presidential candidate John Edwards, whose campaign donors paid up to $1 million to Edwards' mistress, Rielle Hunter, while she was working as a videographer for Edwards and his presidential campaign.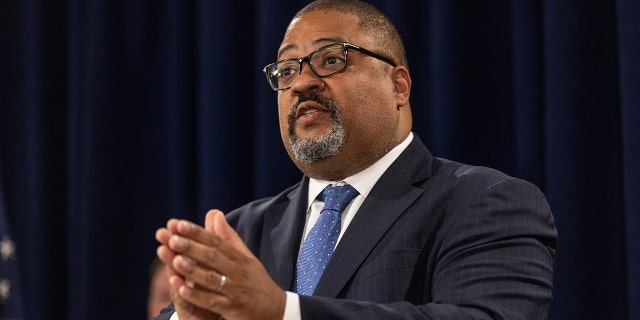 Manhattan District Attorney Alvin Bragg during a press conference in New York on Thursday, Sept. 8, 2022. (Victor J. Blue/Bloomberg via Getty Images)
TWITTER'S ELON MUSK PREDICTS TRUMP WILL WIN RE-ELECTION IN 'LANDSLIDE VICTORY' IF ARRESTED
The Department Justice tried to argue these were campaign-related payments, even though they didn't go through the Edwards campaign's accounts, because they were intended to protect Edwards' reputation during his presidential bid. A jury acquitted Edwards on one charge of accepting an illegal campaign donation and failed to reach a verdict on the other charges, resulting in a mistrial.
The Department of Justice dropped its prosecution and never retried Edwards.
"The alleged one-night stand between Daniels and Trump is far more of a stretch," wrote von Spakovsky. "Daniels had no connection to the presidential campaign of any kind and the encounter — if it occurred — didn't happen during the campaign itself. In any event, even if the Daniels payment were to be considered a campaign-related expense, unlike Edwards, the nominal $130,000 payment wasn't made by Trump campaign donors but by Trump's personal attorney (not the campaign's attorney) with whom he has a long-standing business relationship. . . . Even if one might be able to reasonably construe the payment to Daniels as somehow related to the presidential campaign, there still would be no violation since candidates are allowed to spend as much of their own money as they want on their own campaigns."