Fox News anchor Trace Gallagher has the latest on the border crisis on 'Tucker Carlson Tonight.'
FIRST ON FOX: The chairmen of three top House committees are demanding answers from Customs and Border Protection (CBP) over what they say is an "unprecedented" process being used to potentially discipline Border Patrol agents who were falsely accused by President Biden and other Democrats of whipping migrants in 2021.
"We write to you regarding the apparent attempt by U.S. Customs and Border Protection (CBP) to use an unprecedented process to discipline agents from the U.S. Border Patrol's Del Rio Horse Patrol Unit," Judiciary Chairman Jim Jordan, Oversight Chairman James Comer and Homeland Security Committee Chairman Mark Green say in a letter to acting CBP Commissioner Troy Miller. "We expect your cooperation with our oversight."
The chairmen say they have learned that the disciplinary action the agents will face over the incident may not be decided by the Border Patrol chief or a supervisor or sector chief — and instead may be determined by a "senior executive" with no experience in Border Patrol or law enforcement.
"We are concerned that if CBP pursues this course, it will result in an uninformed and potentially unfair disciplinary decision," they say.
BORDER PATROL CHIEF PUBLICLY BACKS AGENTS FALSELY ACCUSED BY BIDEN OF WHIPPING HAITIAN MIGRANTS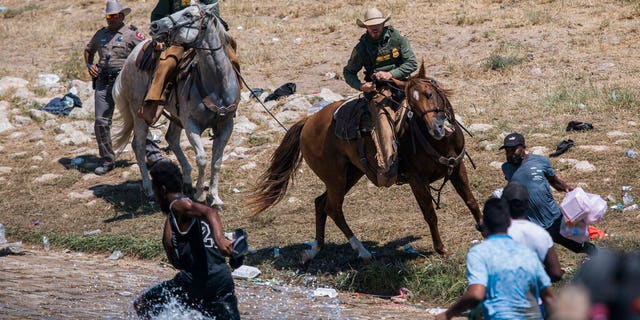 U.S. Customs and Border Protection mounted officers attempt to contain migrants as they cross the Rio Grande from Ciudad Acuña, Mexico, into Del Rio, Texas, Sunday, Sept. 19, 2021. (AP Photo/Felix Marquez) (AP Photo/Felix Marquez)
The development is the latest turn related to the September 2021 incident, which came as thousands of migrants camped out under the International Bridge in Del Rio — some of whom encountered agents on horseback as they crossed the river.
Photographs from the incident were misinterpreted by commentators, reporters and some Democrats as showing the agents whipping migrants. In fact, as the eventual CBP investigation confirmed, the agents were using reins to control their horses, were not carrying whips and did not whip anyone.
2023-03-24 Committees to CBP on Del Rio incident by Fox News on Scribdhttps://www.scribd.com/embeds/633466156/content?start_page=1&view_mode=scroll&access_key=key-MuKiRdRnAXqmDYMplkpa
Democrats and top officials at the time had demanded action based on the false narrative. Vice President Kamala Harris compared the incident to tactics used "during times of slavery" while Secretary Alejandro Mayorkas demurred to the investigation, but said the incident "painfully conjured up the worst elements of our nation's ongoing battle against systemic racism."
President Biden did not hold back, however, and accused the agents of having "strapped" agents — and appeared to try to anticipate the investigation's outcome.
CBP FINDS 'NO EVIDENCE' BORDER PATROL AGENTS WHIPPED HAITIAN MIGRANTS BUT STILL SEEKS TO DISCIPLINE THEM
"To see people treated like they did, horses barely running over, people being strapped — it's outrageous," Biden told reporters, making a whipping motion with his hand. "I promise you, those people will pay. There will be an investigation underway now, and there will be consequences. There will be consequences."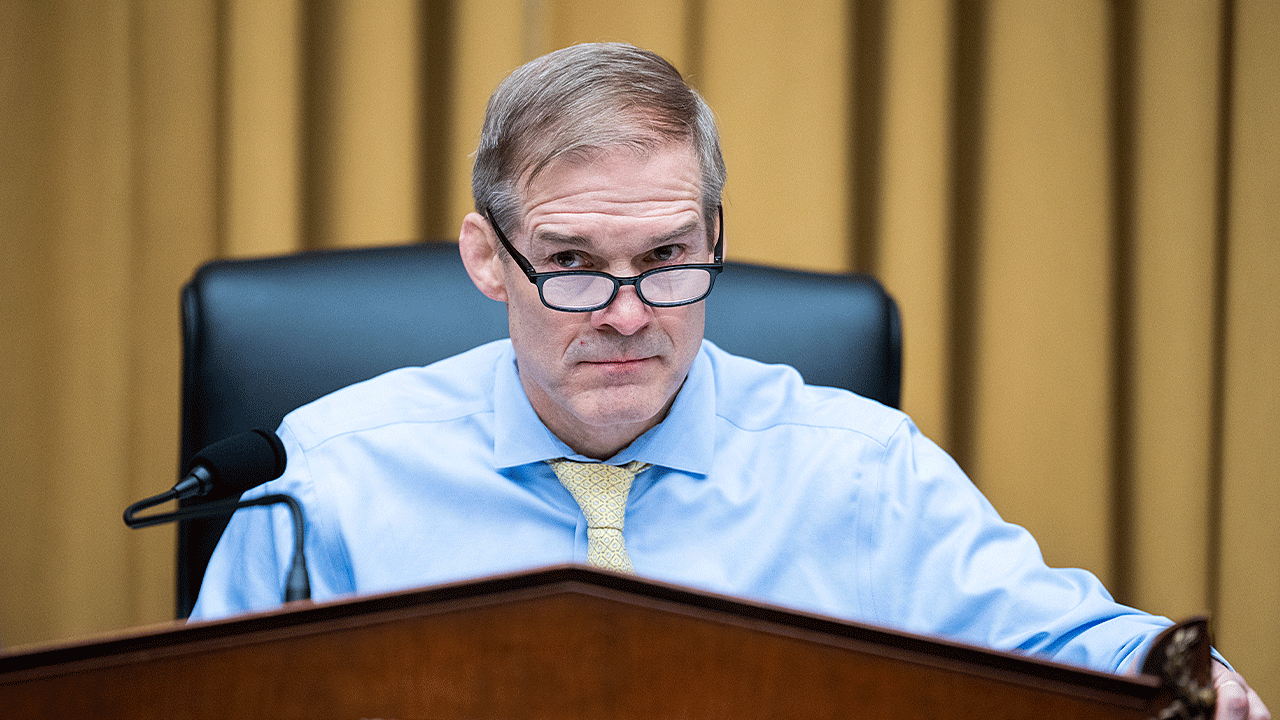 Chairman Jim Jordan, R-Ohio, conducts the House Judiciary Select Subcommittee on the Weaponization of the Federal Government hearing titled The Twitter Files, in Rayburn Building on Thursday, March 9, 2023. ( (Tom Williams/CQ-Roll Call, Inc via Getty Images))
The subsequent investigation, which did not reveal its findings until the summer of 2022, found "no evidence" that agents struck migrants and found that they were not carrying whips, but it still faulted agents on more minor infractions. An agent was accused of using "denigrating and offensive" language against migrants regarding national origin and gender, and of having maneuvered a horse around a child in an "unsafe manner" – while agents were said to have used "unnecessary use of force" to drive the migrants back.
Their punishments have yet to be decided, and the Republican chairmen fear that the agents could be punished as a way to provide political cover for the administration's false statements.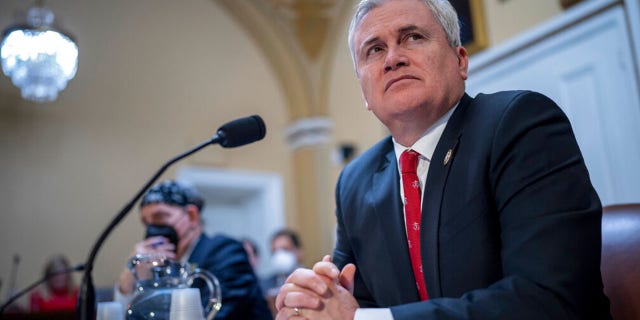 FILE: House Oversight and Accountability Committee Chairman James Comer, R-Ky., pauses for questions at the Capitol in Washington, Feb. 6, 2023. (AP Photo/J. Scott Applewhite)
"We can only conclude that CBP is considering an official without Border Patrol or law enforcement experience as a decision maker to protect the agent's political accountable superiors—the President, the Vice President, and the Secretary of Homeland Security—for their inaccurate and defamatory statements," they said.
The lawmakers also said there may be further investigations should CBP take such steps.
BORDER PATROL CHIEF FUMED AT BIDEN ADMIN'S HANDLING OF WHIPPING CONTROVERSY, EMAILS SHOW
"If CBP decides to pursue this unprecedented process for Border Patrol agent discipline, we may be forced to examine the unusual nature of these disciplinary proceedings and whether the disciplinary decision was made based on proper considerations," they say.
The "Whipgate" saga had come up again earlier this month when an unprompted Border Patrol Chief Raul Ortizappeared to distance himself from the administration, said he was proud of what his agents did that day, and took responsibility for what took place.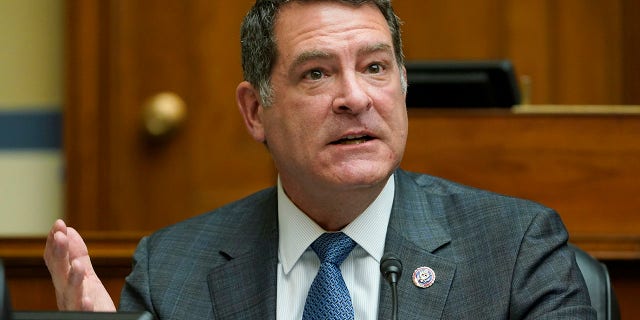 Homeland Security Chairman Mark Green recently held a hearing featuring Chief Raul Ortiz. (Susan Walsh/AP Photo/Bloomberg via Getty Images)
"I remain proud of the work of our horse patrol units and what we did in Del Rio. As the chief of the Border Patrol, I am ultimately responsible for all operational decisions. To that point and as a senior field commander during that response, I accepted and continue to accept full responsibility for the actions taken," he said.
CLICK HERE TO GET THE FOX NEWS APP
Ortiz had previously backed his agents in other settings. In 2022 he had expressed confidence that the agents would be exonerated. Fox News also reported on emails from around the time of the incident, obtained by the Heritage Foundation's Oversight Project via FOIA, where Ortiz had fumed over the administration's failure to support agents.
"This horse business is awfully negative but there are great efforts occurring and we aren't highlighting any of them," he said in a furious email. "Everyday we are providing lifesaving efforts to migrants under the bridge."
"Our agents are being assaulted and we aren't saying a word," Ortiz said.