Inflation continues to be the top concern for voters as large numbers rate both the nation's economy and their individual finances negatively. That's according to a new Fox News survey that contains little good news for an incumbent president running for re-election.
Some 83% of voters say the economy is in only fair or poor shape.
That's more negative by 5 points compared to last month (78%) and worse by 14 points compared to President Biden's 100-day mark in April 2021 (69%).
Another 66% give their personal financial situation negative marks, up from 58% in December.
WILL AI IMPACT YOUR JOB? SOME INDUSTRIES THE TECHNOLOGY IS LIKELY TO HAVE MAJOR IMPACTS ON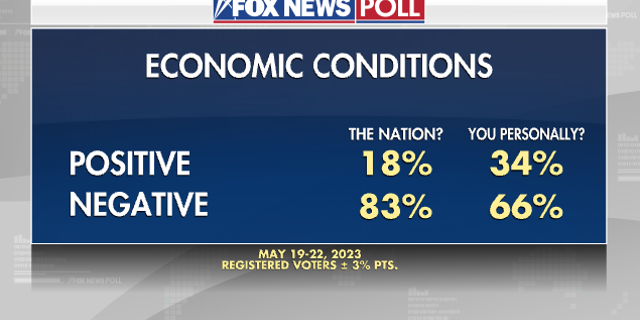 A Fox News poll on the economy (Fox News)
While views are especially negative among Republicans (95% say the national economy is in bad shape and 71% feel the same about their situation), it's about as bad among independents (90% negative on the economy and 77% on individual finances).
Overall, a large 90% majority is concerned about inflation, including 85% of Democrats.
Almost as many, 88%, are worried about the future of the country. That includes most Republicans (96%), Democrats (83%) and independents (82%).
'WILL DEFINITELY REPLACE ME': AMERICANS FEAR ARTIFICIAL INTELLIGENCE WILL STEAL THEIR JOBS
Two-thirds are concerned about the U.S. banking system (65%) and being able to pay their bills (64%). Worrying about paying bills jumps to 75% among lower-income households but also stands at 56% for households earning $50,000 or more annually.
And then there's this: Only 20% feel President Biden's policies are helping them.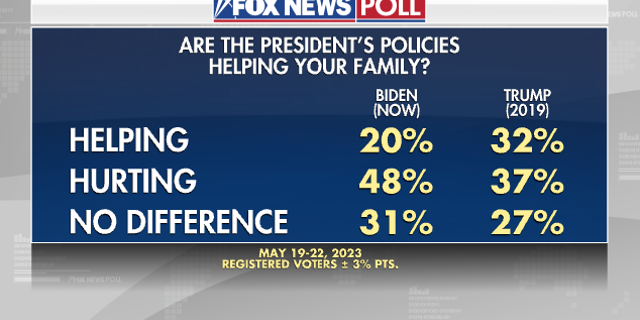 A Fox News poll on Biden's economic policies (Fox News)
Nearly half overall (48%) and more than half of independents (52%) say the administration's policies are hurting their families. Four years ago, at the same point in former President Trump's presidency, 37% overall and 39% of independents said his policies were hurting (May 2019).
That's how Biden's job rating on the economy ends up underwater by 32 points: 33% of voters approve and 65% disapprove.
"Inflation is a stubborn economic problem and therefore a stubborn political problem," says Democratic pollster Chris Anderson who conducts the Fox News survey with Republican Daron Shaw. "As long as inflation is squeezing paychecks, Biden is going to have a tough time making the case that his fiscal policies are helping people."
DEBT CEILING CRYSTAL BALL: DEAL UNLIKELY OVER NEXT COUPLE OF DAYS
Currently, 42% approve of Biden's overall job performance, while 58% disapprove. That's down from 44% and 55% last month and the lowest since August 2022, when it was also 42% and 58%. His worst was 40% and 59% in July 2022.