By Joseph A. Wulfsohn | Fox News
Fox News contributor Jason Chaffetz joined 'The Faulkner Focus' to discuss comparisons between Trump and DeSantis' 2024 White House bids and attacks on Sen. Tim Scott after his major announcement.
The 2024 Republican primary field is shaping up to one of the most racially diverse in modern memory, but a media landscape that repeatedly touted the 2020 Democratic candidates as an American tapestry doesn't seem nearly as interested this time around.
A record 29 candidates joined the 2020 Democratic race throughout that election cycle, including seven racial minorities and one who was openly gay. The legacy media heralded what it deemed a historic presidential race simply by how diverse it was, although the ultimate victor for the nomination was then-77-year-old Joe Biden.
In January 2019, CNN was quick to hail the field "the most diverse in modern political history" back when there were only eight declared candidates. The Associated Press also jumped on the diversity bandwagon right out of the gate.
SEN. TIM SCOTT BLASTS JOY BEHAR OVER CLAIM HE 'DOESN'T GET' RACISM: 'DUMBEST, MOST OFFENSIVE THING'
"The early days of the Democratic primary campaign are highlighting the party's diversity as it seeks a nominee who can build a coalition to take on President Donald Trump," the AP wrote in its article headlined, "Early 2020 Democratic field puts diversity in spotlight."
The legacy media heralded the "most diverse" Democratic field of presidential candidates during the 2020 election cycle. (Paras Griffin/MSNBC/NBCU Photo Bank via Getty Images)
The next month, The New York Times ran the headline "Cory Booker Announces Presidential Bid, Joining Most Diverse Field Ever," writing how the senator was "embarking on a campaign to become the nation's second [B]lack president in a Democratic primary field that is the most diverse in American history."
NPR ran a story about how the White men running in the Democratic field had to "grapple with identity" while Vox hyped how "the most diverse field of Democratic presidential candidates ever is hiring diverse staff, too."
USA Today columnist Jill Lawrence urged readers to "Celebrate the diverse 2020 Democratic candidates and don't fret about 'electability.'"
POLITICO ACCUSES NIKKI HALEY OF 'COMPLICATED RACIAL DANCE,' SAYS SHE HAS FRAUGHT RELATIONSHIP WITH RACE'
However, the media's tone turned pessimistic as the Democratic primary race unfolded. In October 2019, the Times published the headline, "Democrats Have the Most Racially Diverse Field Ever. The Top Tier Is All White." Washington Post columnist Philip Bump similarly complained, "The most diverse Democratic field in history seems poised to result in a [W]hite nominee."
Fast-forward to the 2024 election cycle, and many of those same news organizations have gone quiet on the diversity of the growing GOP primary race. The 2024 Democratic field currently consists of Biden, Robert F. Kennedy, Jr., and Marianne Williamson, who are all White and over 69 years old.
Leading up to June, four of the eight declared candidates were racial minorities; former South Carolina Governor Nikki Haley and entrepreneur Vivek Ramaswamy, both first-generation Indian-Americans, and conservative radio host Larry Elder and South Carolina Sen. Tim Scott, who are both Black.
With limited exceptions from the AP and Newsweek, there has been little to no ink dedicated to the "most diverse" field of Republican candidates.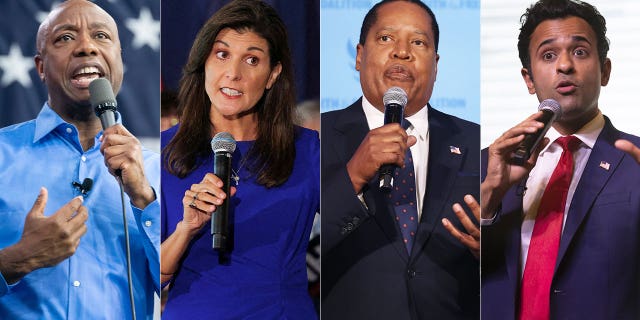 Republican presidential hopefuls Tim Scott, Nikki Haley, Larry Elder and Vivek Ramaswamy are defying the left's notion that the GOP is only made up of old White men. (Getty Images/Reuters Photos)
Elder sarcastically mocked the "shocking" disparity of the media's coverage.
"Several liberal reporters called me for comment when Tim Scott announced his candidacy. They asked: 'You and Tim Scott are both Black Republicans, what distinguishes you from him?'" Elder told Fox News Digital. "My response? 'Did you reporters, in 2016, say to Trump, 'You and Jeb Bush are both White Republicans, what distinguishes you from him?' Their silence was deafening."
"No, to the liberal media, Elder and Scott are not two different individuals. Why, as Republicans, who are both Black, Elder and Scott are practically identical twins separated at birth! Yet another example of liberal media condescension and bigotry," he added.
Elder, who launched his campaign in April, previously launched a gubernatorial bid against Democratic California Gov. Gavin Newsom, in the September 2021 recall effort to oust him. Newsom wound up easily winning the race.